My cat, Kidde (like the fire extinguisher--cute right?), never gets a lot of blog-time. He is normally pretty low-key and doesn't stir up much drama that is blog worthy. Until last night.... Last night just before heading to bed I heard Shawn in the other room. "Get over here!" he yelled as I saw him reach for the cat who had feet of fishing line dragging behind him. I didn't realize what had happened at first until I saw the cat close up. 'Dear God' I thought as I saw blood in the cats mouth with fishing line hanging out. "The cat's been hooked!" He had apparently decided to play with and then attempt to eat the hook on one of Shawn's ice-fishing tip-ups that he had accidentally left enticingly dangling like a cat toy.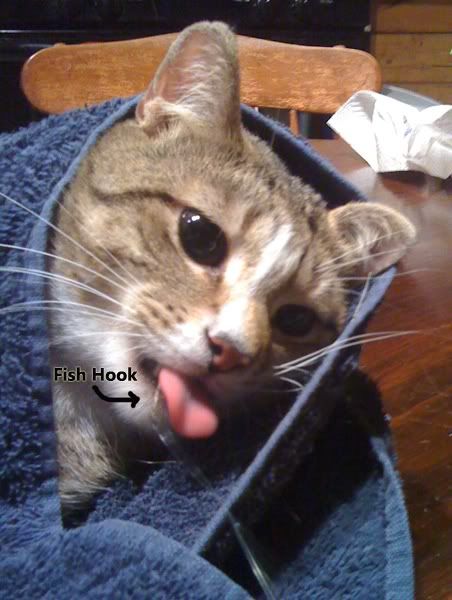 I picked up the cat, who was understandably a little wild, and wrapped him in a towel so he wouldn't claw me or keep trying to paw at his face. After inspection I was relieved to see that he hadn't swallowed the hook, rather it was lodged in his tongue. Unfortunately the hook was deep in his tongue and the barb wasn't all the way through. With it firmly embedded we knew that the cat had to make an emergency trip to the vet. Two hundred dollars later and at two in the morning we returned home with a sedated and hook free cat. He has two stitches, but other than that is completely fine.
At least this catch was a keeper.