**Disclaimer: Some of this story and some of these photos may bother certain people.**
I have very little obstetrical experience, and I mean little. When my youngest sister was born I was seven. My experience caring for her as a newborn consisted of sitting in a chair, holding out my arms, and being told "now don't move!". So when I was shoved into the birthing center for a few hours due to unplanned meetings where I was suppose to observe in the womens clinic I was caught off guard.
Immediately a short, happy, little, old nurse greeted me and led me into a room with two very young parents that were sound asleep and a baby that was nine hours old. Yes, nine hours. Not even through her first day of life on this planet. The nurse said "the parent's are asleep, but she needs to be changed so get a set of vital signs, change her diaper, and then dress her." I nodded and my eyes must have become the size of saucers. Before I could stammer on about my inexperience with babies she had stepped out of the room. I was alone. No one was in there but me, two sleeping parents, and the newborn. Yikes!
Somehow my hands stopped shaking enough to pick her up and unswaddled her. I just kept thinking, how am I going to reswaddle her this nicely? And then I understood why they have parenting classes. I started with what I knew best, an assessment. That was easy. Counting her little pulse through the miniature stethoscope, looking at her skin, listening to her lung sounds. Then, after a bumbling couple of minutes, I change the diaper, put a new one on correctly, and figured out the puzzle of snaps on the little set of pajamas set out for her to wear. Everything about her was perfect and I now want a baby more than ever.
Then the telephone rang. There was an emergency case in the Operating Room. A woman who was only 14 weeks pregnant had become septic following an emergency surgery. Once she became septic her body soon began rejecting the pregnancy and early that morning she lost her babies. Yes, babies. The woman was barely 14 weeks pregnant with twins. The reason for the call to the birthing center was because the fetuses that were removed in emergency surgery needed to be photographed, measured, and examined. A baby, no matter what gestation, is regarded and treated as an actual baby by the hospital staff. Data has to be recorded just like a normal birth so myself and two other nursing students went down to the lab with an obstetrics nurse to examine the babies. Nothing could have prepared me for this experience.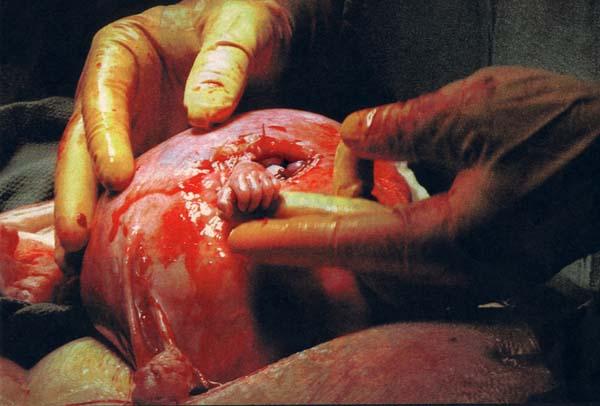 The lab was cold and clean. We gloved up and put on surgical masks as the babies were brought into the room in a little plastic container. The nurse opened the lid and we peered in. Inside was a single placenta (meaning they were identical twins) and two small babies. Each baby was brought out and placed before us.
I had a lump in my throat. Never would I have guessed that at just 14 weeks a fetus would resemble a newborn baby so clearly. I had imagined something like those lizard-like photos they show you in textbooks, but that was not the case. These babies looked just like a full term baby, only in miniature, about eight inches long. You could see the lips clearly, little ears, and each one's tiny nose. They even had fingernails! Yes, fingernails. The little hands still haunt me.
We professionally took photos, footprints, fingerprints, head circumference, and length, naming them 'Baby A' and 'Baby B' as we recorded the information. Then we put the babies back in the plastic container, closed the lid, and left them in the lab for whatever other procedures awaited them.
And now my view on abortion will forever be pro-life.
If you've held the hands that I have then you'd be pro-life too...