Not even 30mph winds and 5 degree temperatures (yes that's Fahrenheit) can stop us from taking a trip on our sleds. Actually today was our first snowmobile ride of the 09-10 winter season! The trails were remarkable for this early into the season, mostly thanks to the eight inches of snow we received in the last 24 hours.
Beautiful trails... Look at all that snow!!
Now with any snowmobile trip, especially the first of the season, there are a couple check-list things we do.
All the legal stuff:

Registration, proof of insurance, snowmobiler's license (since I was born after 1984), and VAST.
Stuff to bring:

cell phone, driver's license (for identification), trail map, cash, and a tow rope. If you are going to be riding at night or near dusk a flashlight wouldn't hurt.
Mechanical Stuff:

Check the oil, make sure all the lights are working, locate tool box, have extra spark plugs and belt, and remember to top off the gas tank.
Proper Clothing:

Helmet (duh...), wool socks, very sturdy and warm boots, snow pants, a very thick jacket, neck warmer, and a good pair of gloves. Some sort of long underwear wouldn't hurt either... depends on just how cold it is.
That sounds like a lot, but really most of it is common sense. When you don't have common sense or think you are just too cool then you have bad things happen like this guy...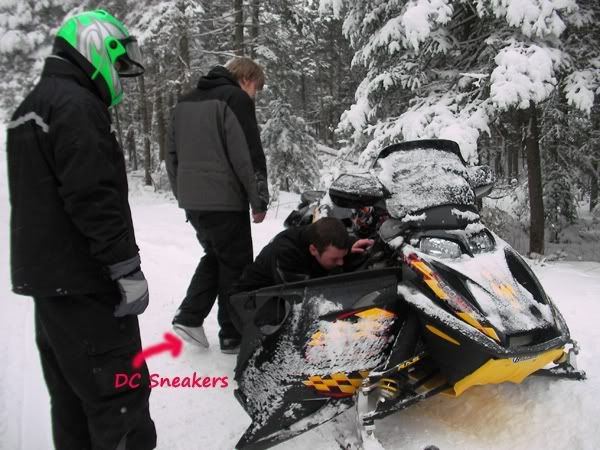 I'm not sure which is worse... standing in the snow and 5 degree temps wearing DC sneakers or running out of gas when you're a mile from town. Maybe running out of gas two miles from town? Or how about not having a tow rope with you? Good thing Shawn and I came by...
Leave it to firefighters to be prepared I suppose, but these fellows were saved a long and very cold walk (in sneakers!) back to town because of us. Shawn roped the two sleds together with no lack of expertise, told them to keep the rope, wished them good luck, and we headed on our way. Maybe they will keep the tow rope for next time? Or maybe there won't be a next time because they will think to top off their gas tanks before hitting the trails? Either way, I hope that at least that one guy gets a new pair of boots...