For some reason my husband labeled me as his second shooter and I will never understand why. Maybe he loves me that much? When you get a moose tag you get to pick one person to be your "second shooter" who registers with you on your license. You also get to label someone as your guide. This person does not get to carry a gun, but rather is suppose to guide you to where the moose are so you and your second shooter can shoot one. Those are the only people allowed to hunt and be in the woods with you when you are hunting moose so being labeled the second person, the only other person with a gun even, was a big deal. And I am not exactly a seasoned hunter. In fact, I am only a one-seasoned hunter, having only one hunting season under my belt and a hunters safety card that the ink has barely dried on.
But ready or not I was up at 4am, dressed in camo, and paraded into the woods on a friend's 8,000 acre parcel of logging land.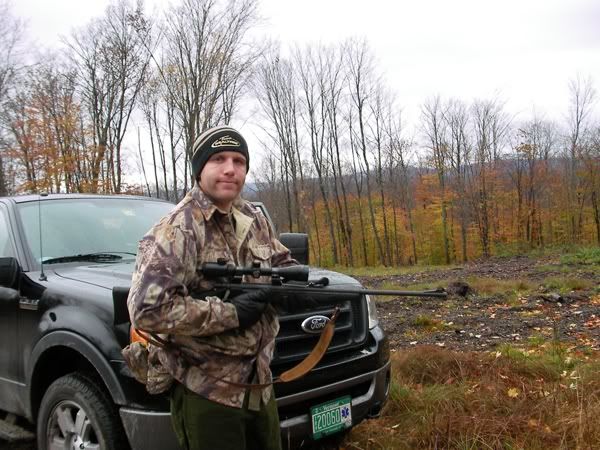 Myself, all excited to be decked out in camo and walking in the rain.... yeah.
And Shawn, the kind of excited that a man will never let you see.
I was actually excited that first morning as we set out down old skidder roads towards a remote swamp. It was thought to be prime moose territory.
Four times a day we visited this swamp. There was sign of moose everywhere. Poop, prints, and even antler rubs. During the last season, a week earlier, someone had shot a very nice bull down in that swamp. The weather had also changed, from cold to warm. Clearly the moose had changed their destination.
After two comeplete days of hunting, waking up before dawn, and walking over a dozen miles up and down mountains I was exhausted and then my week of school began. Shawn still headed back into the woods, persistent, and without the company of his second shooter because nursing school still outweighs the importance of a moose tag. On the forth day of hunting, Tuesday, Shawn called me in a frustrated voice saying he was on his way home. Unsuccessful for the day, so he thought, he headed back up the logging roads towards home. He was getting discouraged after four days of no luck. Then the phone rang again just a few minutes later. Shawn was out of breath and explaining he had shot a moose! In a matter of minutes his luck had changed and I was off to help him with bringing in the moose--or rather photograph him and his friends bring in the moose. However you want to look at it!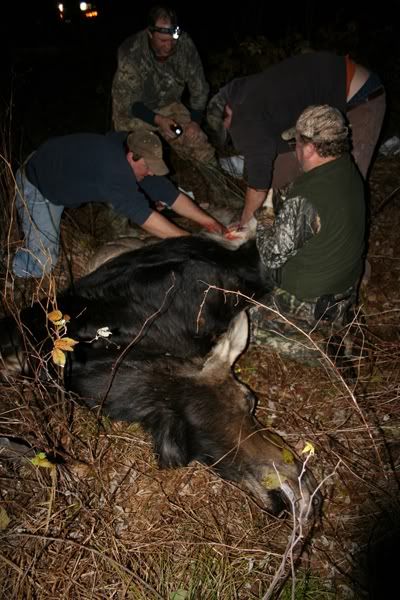 Thank goodness for friends who enjoy gutting animals. That's not a weird thing up here. Maybe in Jersey its a skill that is disgusted, but in Vermont these are the friends you call in a time of need. They definitely offered a lesson in animal gutting. For me, it was an interesting anatomy lesson.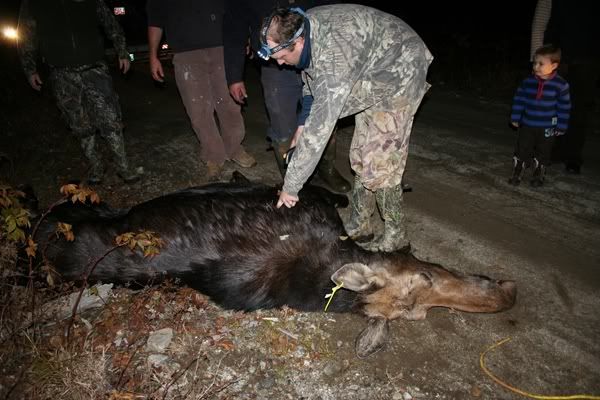 Shawn had shot it right in the lung, as he pointed out here.

Once we looked inside one lung and the entire left ventricle of the heart was obliterated. He saw this moose just off a logging road that doubles as a snowmobile trail in the winter. So then we had to finagle a way to get the moose out of the woods and over a very large ditch onto the logging road. --Note the little boy. Getting a moose is really a whole family affair!
I don't know who came up with the rope idea, but it worked, to my amazement. I figured the rope would surely snap. One of our friends stated once this idea was successful "We may be rednecks, but we ain't stupid." That's true, and a good thing...
Finally... more than two hours later... we made it to the taxidermist's house where we were to weigh the moose. Everyone, all in good fun, was making guesses on the moose's weight. Thats half the fun, guessing the weight. Shawn was insistent that it weighed more than 600lbs. My guess.... 545lbs. What's your guess?
Up on the pulley the moose went until none of it was touching the ground. If you look closely at the meter you can see the weight of the moose. That's right... 545lbs on the nose. What a good guess!
A happy hunter and his guide. Aka, father and son.
Despite it not breaking 600lbs Shawn was still excited. He even let me take numerous photos of him and even smiled! Whether it was the excitement and pride of a successful hunt or the four beers he consumed on an empty stomach I don't know... But regardless it has been an experience that he loved and none of us will forget. Now we are going to end up with more meat than we will ever need...