As I am writing this it is just below sixty degrees. It feels like fall. School has started. Yes... I am back in school! But before I move onto the next season I must discuss the capstone of this one.
My summer has been a crazy one. The stress has far out-weighed the enjoyment. It has been hard to focus on the positives when I felt I was surrounded by demands, obligations, and work. All it took was one afternoon, where for the first time in months I truly enjoyed myself. I really had no idea that one place where I spent just a few hours with a couple friends would completely make my summer. I guess life is intriguing like that.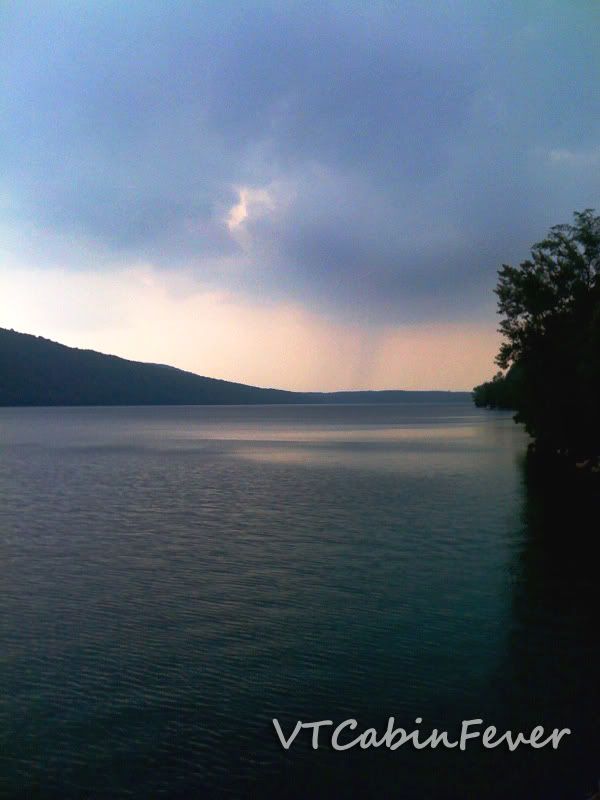 For the first time ever I went swimming in Lake Willoughby in Westmore.. It is not only a beautiful lake, but it is incredibly fun to swim in, with clear water and tons of flat smooth rocks dotting the water and underwater. The last time I went swimming, like really swimming, just bobbing around in the water and relaxing, was probably four or five years ago. I was in heaven and wouldn't have left...ever... except that another idea was brought up.
Devils Rock.
This is the view from up on top of the rock. Shawn is down below... chicken.

Obviously the idea was for us to jump off into the lake. An adrenaline rush, so to speak. I was not convinced injury wouldn't result. Actually... relatively nothing scares me, but I don't have the ability to jump off things, particularly into water.
--Preface--
When I was about eight I went to a summer camp where they had a 10 foot diving board at the pool. I immediately climbed it the first chance I got, only to be scared and nearly frozen by the incredible heights I discovered at the end of the board. Once I finally talked my self into making the huge drop into the water the 0.4 seconds I was in free fall was exhilarating and frightening. Then I hit the water... in the worst angle possible. Some quasi-belly flop. The pain was excrutiating. I could barely swim and cried as I tried to paddle my way to the ladder. A year later, back at camp, I was determined to conquer the diving board successfully. Once again I climbed it and froze. Completely. Then took the climb of shame back down. From then on I have been petrified of jumping off high things into the water. I haven't done anything more than a foot or two high since.
--End Preface--
Devils Rock is more than twenty feet high.
I was scared.
Terrified....
I watched my friend jump. A couple strangers jump. I crept to the edge, feeling shivers all over. The same feeling of being eight years old up on that diving board returned. That was it... I was going to shatter that fear. One the count of three.
one.
two.
three.

And I jumped.

I jumped off of Devil's Rock. It was freeing. The best feeling this summer, by far. Almost nothing compares to conquering a childhood fear.
Take that old diving board.
You're nothing compared to Devils Rock!