I have never had a greater appreciation for my mother in my life than I did after Thanksgiving dinner was over and everyone had left. --granted I have yet to birth children so I imagine that will change my perspective one day. But I had never been more exhausted in my life and I have no idea how my mother has prepared Thanksgiving dinner so faithfully (and happily) all these years!
It was 9am... I already look exhausted (down right disheveled actually...) as I shove my hand inside the rear end of a turkey. Ahh... the start of new traditions.
Shortly after the turkey was in the over I began cooking and didn't stop for about seven hours. I realized that pretty much every single dish I cooked was orange. Sweet potato casserole, pumpkin pie, roasted carrots, and a pumpkin spice dip were the orange items among a few other things...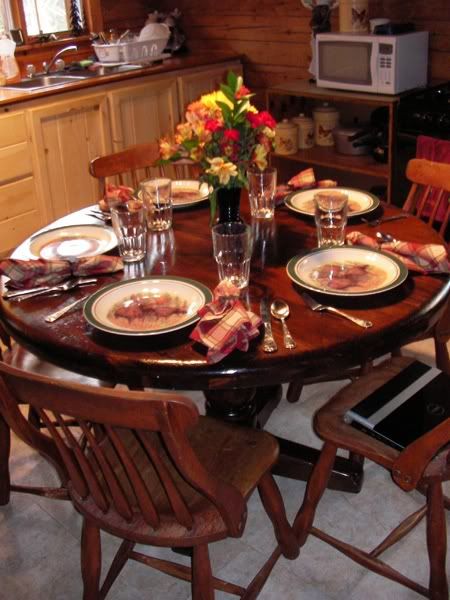 I felt like a real housewife. The other day I had gone to
L.L. Cote's
, which is a variety store of types, and purchased nice little napkins and moose napkin rings even! Then I set the table in a way that made me reminisce to the days where I was a bus girl at a fancy little restaurant years ago. Forks on the left. Spoons and knives on the left. Don't forget to turn the knife so the edge is towards the plate. And make sure the glass is just above the knife. ...oh so unnecessarily technical.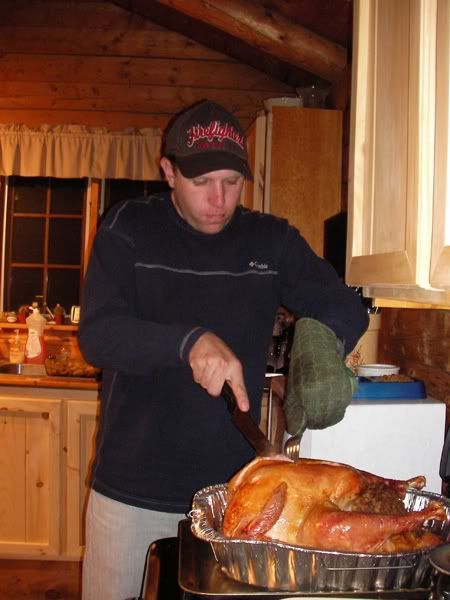 The turkey did take about three hours longer than it should have. So much for the estimates on the turkey packaging. Thank goodness we had one with one of those little timers in it, which Shawn was all but convinced was defective two hours past estimated cooking time. Just as he was about to carve into the turkey to inspect the done-ness of the meat the timer popped. He set straight to carving it.
For the first time since we have owned our home we sat down and ate a meal at our kitchen table. It was nice. Family all crowded around, conversation, and good food. Of course there was a ton of left overs that I tried to pawn off on my in-laws. With only partial success I will now be experiencing tryptophan overload for the next week or two at least.
Even after all the exhaustion and painstaking experience of getting acquainted with my oven and mixer I enjoyed it. The accomplishing feeling of producing a whole meal, feeding everyone, and then having your kitchen clean at the end of it all like nothing happened. (so maybe that's why my mother does it?). It has all the feelings of a new tradition in the making...