Yes. A pie.
I officially have adventured in to domesticism and made my very first ever, completely from scratch, pie. Not just a pie, but apple pie. Not just an apple pie, but an apple pie made from apples I picked off the tree in our yard.
Those are apples right off the tree in our yard. Every year the tree faithfully produces wonderful apples for us that we don't really use. The partridges flock to them which we shoot, so I guess we indirectly use the apples, but I wanted to use them in a more meaningful and enjoyable way. So into the house and into a pie they went.
It was an hour long process. Peeling lots of apples. Adding lots of flour... too much flower... oops. Somehow my crust didn't turn out correctly (hmm... maybe it had to do with all the flower?) but I made it work.
In the oven it went and then an hour later my house smelled wonderful and the pie was done. The smell was almost as rewarding as the pie itself. Nothing is better than a log cabin filled with the sent of a fresh baked apple pie. No Yankee Candle can imitate that scent!
The completed first ever homemade apple pie.
So we happened to have a few friends over that evening and we all taste tested my pie. It got two thumbs up! Amazingly I cooked a pie that came out correctly and people enjoyed. Then the real test came.... could I do it again? Or was it a fluke?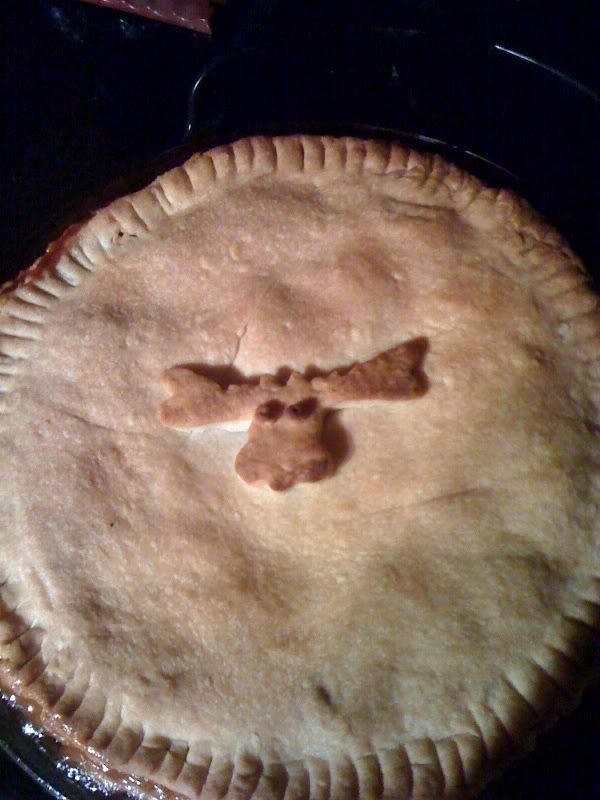 The second homemade apple pie. Complete with a moose on top!
I made a second pie this week to share with the people in my nursing clinicals and it came out 100 times better than the first. In fact, it was probably the best apple pie I have ever eaten anywhere, ever (not that I'm bragging...). I think I will have make a third pie now because I don't want to share my pie anymore!
And incase you are wondering where I got such a great recipe? No it wasn't homemade. I simply googled "apple pie recipe" and it was the first one on the list. I tweaked it a tiny bit, added a little ingredient and subtracted one, but its really no secret. Now go celebrate fall and make yourself a pie. Or ask really nice and maybe your wife, mom, or neighbor will make you one!