Leave it to me to mess up my small contribution to Thanksgiving dinner. Shawn and I were going to have Thanksgiving dinner, which actually was more of a lunch since it was at noon, at his parent's house. I felt obligated to contribute since we were basically just coming over to mooch food. Shawn's mother suggested I bring a desert and I knew what to make... pretzel salad.
Now the last time I made something for Thanksgiving I made pretzel salad, which is traditionally made with strawberries. No one had told me at the time that Shawn's mother was deathly allergic to strawberries until I showed up at her house bearing my anaphalactic gift. I felt horrible, so this year I wanted to redeem myself. My bright idea was to remake the desert, but this time with raspberries.
This is what pretzel salad is suppose to look like: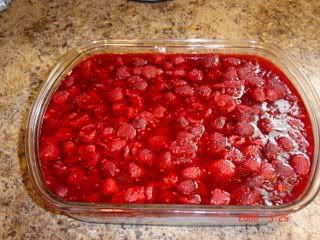 And this is what it looks like when I make it without sugar... A lot less aesthetically pleasing . Even the pan I used doesn't look pretty by comparison. Maybe I should have used my pyrex...
I still served my desert to Shawn's family and it actually tasted pretty much the same. It just didn't look as pretty. At least I tried. And I swear, I really am a good cook. I just need to pay closer attention to the recipes. My kindergarten teacher wasn't too far off when she said that at times I had problems following instructions.