Yesterday and the day before all everyone was talking about was the weather. Snow was in the forecast, and not just a little bit. It was on the news, the radio, and all over town. Where ever you went people could be hear talking about the impending snow. Like everyone else I raced to have my snow tires put on. Due to my wedding planning I forwent my usual preparedness and paranoia for the winter driving season and did not put my tires on earlier. Now I was forced to find someone to put on my studded tires, with an early morning commute 30 miles the next day. Hours later I was successful and had a much less (about 1-2mpg) gas efficient vehicle that made slightly more road noise (thanks to the studs) but I was firmly tractioned to the road.
The next morning I eagerly, like a kid on Christmas morning, came downstairs, went to the door, and turned on the outside light to see the anticipated glittering white blanket. Snow is something I always am excited for, especially in the beginning of the season when it is something new and exciting. When I looked out the window I didn't see a very big blanket, but there was snow on the ground. The first snow of the 08-09 winter season!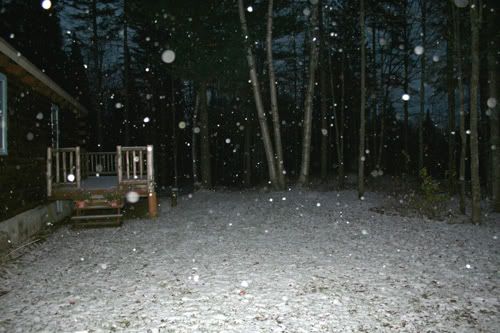 It was still snowing when I left for work in the morning. It was also still dark. This whole nonesense of extending daylight savings time is really getting on my nerves. It should not be this dark (and note: I lightened the photo a little too) at 7am when I leave for work. I can't wait for this weekend when the time changes... it is this weekend right?
As I started driving there was only a little snow on the road. With my studded snow tires I felt confident in my car's ability to stay on the road... and to be honest I've driven in far worst conditions. Still... this is the precursor to immense amounts of snow, cold temperatures, slow driving, and snowmobiling to come. The crazy fluctuations in the seasons up here is phenomenal. It keeps you on your toes.