A great deal of my job deals with teaching. People don't learn how to do what I do without hands on experience. Every once and a while we have a new person who becomes old enough or decides to join and needs to be taught basic ambulance related job skills. Working in the ambulances can be looked at as two parts, both equally important: working in the back and driving. Personally I would much rather work in the back. That's where it all happens. It is where you take care of people and get to see and do all the cool stuff. Driving is exciting in its own right. There is nothing more adrenaline pumping than driving down a crowded road up the yellow line with lights and sirens going. Just seeing traffic part like the red sea gives me an idea what Moses might have felt like. Ok, not really, but its still pretty cool.
So today we had a guy who had just been approved to begin driving. Those who have never driven a large vehicle or any other emergency vehicle (i.e. firetruck) has to take baby steps. This guy was going to start by driving back from the hospital to the base after a call was completed. No patient in the back, just one of us sitting back there giving feed back on the g-forces we felt. He had all the normal beginner's faults you expect; not enough breaking distance, taking corners at too less of an approach angle, stopping and starting uneasiness, as well as general speed control. Nothing serious that couldn't be correct with time behind the wheel. The second time the guy drove back from the hospital I sat up front and watched his driving. Everything went smooth. We got back to the base and he went to back into the garage bay like normal. I thought nothing of it and watch him back up when all of a suddent I heard this... WHAM! And the ambulance jerked violently. I knew immediately what had happened... he had smashed right into the building!
The poor guy turned white as a sheet. I looked at him and then at my partner who was in the back of the ambulance. We just started laughing hysterically, which didn't help, but was all I could do. When I got out of the ambulance this is what I saw: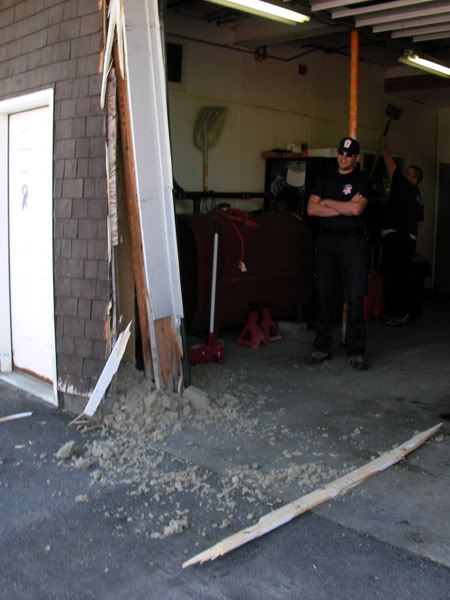 It looked bad, but after hours of hammering and replacement 2x10s it looks good as new. The poor guy almost cried, but already it has become more of a joke. He is not the first one to hit the building, but no one has hit it quite as hard and caused as much damage as him. I, for one, got a different ambulance stuck in a snow bank and when it was pulled out had the bumper ripped off and the siren ruined. Everyone does something.
Just another day... besides the three ambulance calls and transfer we went on.